About NZ Roofing Industries' RoofLink® Magazine
Published quarterly, RoofLink® is produced for RANZ Members and is a direct benefit of membership. RoofLink® is the official journal and flagship of the Roofing Association of New Zealand and key publication of the Roofing Industry of New Zealand.
Current Issue - Members and subscribers your free access: redeem your free digital publication copy with your code at the link here.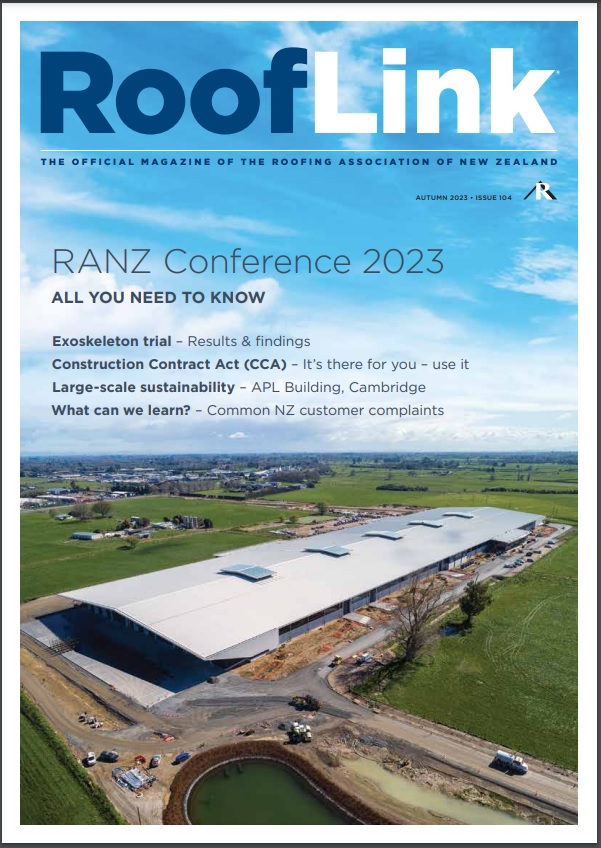 Subscribing (see below)
LBP Points for Skills Maintenance (see below)
For Licensed Building Practitioners - Skills Maintenance
Rooflink® is an approved publication by the Department of Building and Housing - qualifying for one (1) LBP skills maintenance point per issue
Containing a host of informative news, educational, business, industry and human interest articles and information, content of Rooflink® has a UNIQUE FOCUS and is SPECIFIC TO THE ROOFING INDUSTRY. It's a great read!
Rooflink® brings members and subscribers right up to date with invaluable industry information including:
legislation and regulatory compliance
health & safety
technical
contractual/legal
employment
industry training
roofing features and member profiles
industry technology and innovations
AND the latest industry, supplier and membership news
Subscribing to Rooflink®
Eligibility terms and conditions apply: Rooflink® is available on an annual subscription basis to non-member businesses, organisations, licensed building practitioners and individuals whose primary business/activity is not directly involved with roofing. Businesses or individuals in the roofing sector whose primary business/activity is roofing and who would be eligible to apply for RANZ membership are not eligible to subscribe.
If you are unsure as to your eligibility, please contact the RANZ CEO.
Enquire about subscribing
We invite you to contact RANZ to enquire about subscribing to Rooflink® and current annual subscription rates.
Email: editor@ranz.co.nz or phone +64-9-415-0278